«A narrative imbued with poetry in which reality and fiction come together brilliantly.» - From comments made by the Jury of the National Prize for Spanish literature.
«The reader can once again discover Atxaga's great poetic power, his incredible capacity to create entire profound and insightful universes.» -
El Correo newspaper
«An exercise in literary jugglery.» - ABC newspaper
«If we could flip over names in print as with stones in an orchard and see the life hidden beneath, we would discover that no two beings are the same.»
In a bakery in the Basque village of Ugarte, a boy who one day returned from boarding school in the south of France having lost his ability to speak, recovered his speech thanks to a friendship with twin boys and to something strange which the three discovered in the waters of the canal which ran down from the mountains. The Franco dictatorship is nearing its final days. Everything is changing in Ugarte and also in the El Pardo barracks where, just then, Eliseo, Donato, Celso and Caloco are trying to train a magpie and flout the rules which reserve hunting for the rich and powerful. Theirs was also a tale of friendship, with the right amount of thoughtlessness, rebelliousness and tragedy.
Years later, strikes whipped up by the unions shook the mining industry in Ugarte. This is now the turbulent eighties and Eliseo and the twins find themselves caught up in a plot for vengeance hatched by the engineer Antoine and which seems straight out of a crime novel. Time passes quickly and everything that was changes: music, television with its reality, electronic mail, all arrive while the interior lives of the protagonists of this story retain intact their silences, secrets, threats… It's only life, which runs like threads of water between stones. But it goes on.
With this exciting novel, grounded in friendship, love for nature, and the imminence of death, Atxaga again shows himself a master in the creation of unforgettable settings and characters.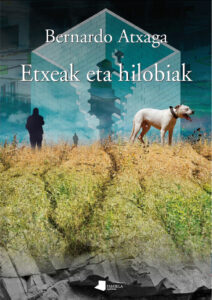 (cover of the Basque edition)