"Through small windows of nostalgia, she shows us a story full of relationships and loneliness, in a terrifyingly fragile balance. Iolanda Batallé transmits everything she writes and even more." - Laia Fàbregas
"A sensitivity that allows us to feel the sweet burning of golden dust that remains on the fingers after having retained, for an instant, the truth of who we are: fragile shadows walking with urgency." Ana Maria Moix
"A narrative voice so extraordinary that one does not remember having read it: one remembers hearing it, having spoken." Ricard Ruíz Garzón
"It is like the red apple of Snow White: within it there is an evil naivety that slowly emerges. The writing simulates transparency, nostalgia, brilliance, and yet it is charged with strength, anger and roots." Constantino Bértolo
"The Memory of the Ants" is a deeply optimistic novel, alive, palpable and that adapts and coils slowly around the reader, until it finally manages to get completely under the skin.
Joana is a forty-two-year-old woman who cleans the sand on the beach with a tractor; but she has not always done this. Before that, she carried out a job of prestige and responsibility. While cleaning the beach, she thinks about the meaning of existence, his history and the past of all the people she has met. And all this she writes in the notebook with fourteen butterflies that she has found on the beach.
The notebook with fourteen butterflies is the notebook that Joana writes to explain the world to her daughter María, a seven-year-old girl: "I have started to write to explain the world to my daughter, because when she is older she does not feel, as if everyone has told her a big lie. "
In this notebook we find, in addition to Joana's thoughts, the calls from Neus, an eighty-year-old woman who goes to funerals and explains them to Joana by phone; the surreal conversations that Joana has with Jofre, her husband; the diaries of the nona, Joana's deceased grandmother; some missed interviews with goalkeepers; the stories that Joana writes for Maria; Joana's correspondence by mail with her friend Lenka, a Czech friend she met twenty years ago when they were both Erasmus in England … and many other stories.
All of them seek to understand a little more the meaning of everything.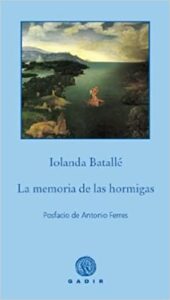 Gadir, 2011, castellano