"The Exact Limit of our Bodies" is an unusual fresco of 21st century life.
In the intensity of the stories, in their capacity to surprise and move in a few pages, some readers may think they are seeing Raymond Carver's footprint.
Iolanda Batallé shows in these stories her great ability to portray in a few strokes our lives and our time, with its small greatness and its constant questions, with its doses of love, unease and perplexity.
Any reader will find in them an occasion to get touched.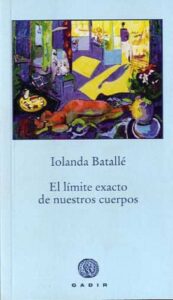 Gadir, 2011, castellano