"Frei's Stories" relate the comic adventures of a boy who doesn't go looking for problems (and neither wants any), but who attracts them like a magnet. A new series written and illustrated by Mikel Valverde, in classic Manolito Gafotas style.
This year at school, Frei's mission is clear: to win the love of the beautiful Mireia López, the new girl. But to achieve this, he must first gain the approval of Marta Fernández, her friend and a real expert in getting him into trouble.
Before long, Frei's friends meet The Professor, an elderly man who is tired of living in a nursing home and wants to go back to the school. He proposes a surrealistic pact, and who gets to be the volunteer? Well…poor old Frei!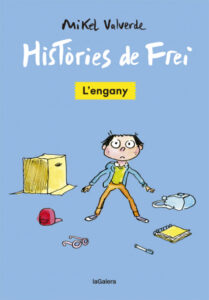 Catalan Cover
>> Sample in English available